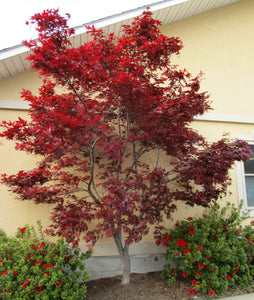 JAPANESE MAPLE EMPEROR 1 'acer palmatum 'Wolff' Emperor I'
A graceful form with black-red bark veiled in dark red foliage that turns a brilliant scarlet in fall. Leaves bud out later in spring, better withstanding damage from late frosts than less cold hardy varieties. Displays most intense color in full sun exposure. Ideal as a colorful specimen in smaller landscapes.
Pricing & Availability
All items are subject to availability.  You may contact us via email - mulchpit1@gmail.com, or call us at 615-754-7076 to check our current availability.  We strive to keep our website prices accurate, but prices are subject to change.