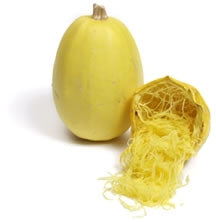 A unique squash that deserves a place in your garden and at your dinner table. Harvest the 5-8 inch fruit when they turn tan or yellow. Bake like any other winter squash, and use a fork to flake out the noodley-looking flesh that easily separates into delicious spaghetti-like strands. We find it as enjoyable as pasta and much less starchy the fruits interior is ready for serving like spaghetti .Top with your favorite sauce.
Pricing & Availability
All items are subject to availability.  You may contact us via email - mulchpit1@gmail.com, or call us at 615-754-7076 to check our current availability.  We strive to keep our website prices accurate, but prices are subject to change.