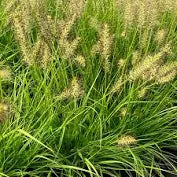 he bottlebrush plumes of Fountain Grass are always eye-catching. Now we have the foliage to match! Lumen Gold Fountain Grass offers splendid, golden color and a rounded, compact habit. 
Grows 2' tall 1.5' wide 
Pricing & Availability
All items are subject to availability.  You may contact us via email - mulchpit1@gmail.com, or call us at 615-754-7076 to check our current availability.  We strive to keep our website prices accurate, but prices are subject to change.