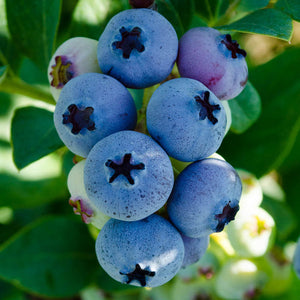 Blueberries are naturally high in antioxidants! They are extremely nutritious and have a high vitamin content. Blueberries are excellent in pies and make delicious jams and preserves.
Blueberries are considered a beautiful productive hedge with spring flowering on dark green foliage, delicious fruit in summer, and fiery red foliage for autumn color. The 'Bluecrop' variety is vigorous and has dense foliage. Set plants out as early as possible in the spring. Prune branches back about 1/2 their length at planting time with no further pruning required the next 3 years. Prune annually thereafter during the dormant period.
Pricing & Availability
All items are subject to availability.  You may contact us via email - mulchpit1@gmail.com, or call us at 615-754-7076 to check our current availability.  We strive to keep our website prices accurate, but prices are subject to change.