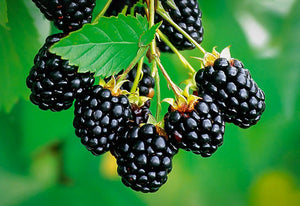 'Navaho' is the world's first erect-growing thornless blackberry. It ripens in Michigan around the 1st of August and bears for one month. The large, deep blue to black, shiny fruit can easily be harvested in the home garden because no trellises are needed for this erect variety.
'Navaho's sweet fruit grows up to an inch long, and yields 12 to 15 pounds of fruit. 'Navaho' reaches 4 to 5 feet high and 3 to 4 feet wide, and is hardy to -9 degrees F in the north, right into zone 10 in the south and west! A sun-lover that's very easy to grow!
Pricing & Availability
All items are subject to availability.  You may contact us via email - mulchpit1@gmail.com, or call us at 615-754-7076 to check our current availability.  We strive to keep our website prices accurate, but prices are subject to change.