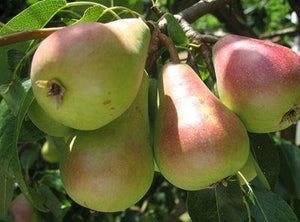 Medium growing, deciduous fruit tree. Best in sun.                                                          SWEET AS SUGAR  THE AYERS PEARS CAN BE EATEN RIGHT O THE TREE OR COOKED WITH THE SAME ''Mmm'' RESULT.                                      
                                                                                                                                             BLOOMS WHITE AND SMELLS AS GOOD AS IT TASTES
SELF POLLINATING                                                                                                                BEST IN SUN                                                                                                                         RIPEN IN JULY AND EARLY AUGUST
Pricing & Availability
All items are subject to availability.  You may contact us via email - mulchpit1@gmail.com, or call us at 615-754-7076 to check our current availability.  We strive to keep our website prices accurate, but prices are subject to change.