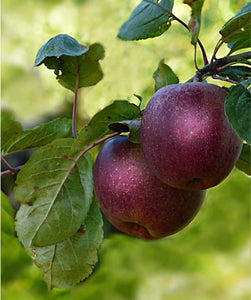 IT'S UNIQUE DARK RED-PURPLE APPLES ARE FILLED WITH DELICIOUS TART SWEET FLAVORS THAT IS SIMPLY IRRESISTIBLE ONCE YOU BITE INTO A CRISP ARKANSAS BLACK APPLE YOU'LL KNOW WHY IT'S A BAKERS FAVORITE.
BLOOMS FRAGRANT WHITE WITH A HINT OF PINK IN THE SPRING
FULL SUN                                                                                                                              MATURE HEIGHT 12-15 FEET                                                                                                HARVEST TIME NOVEMBER                                                                                                
Pricing & Availability
All items are subject to availability.  You may contact us via email - mulchpit1@gmail.com, or call us at 615-754-7076 to check our current availability.  We strive to keep our website prices accurate, but prices are subject to change.