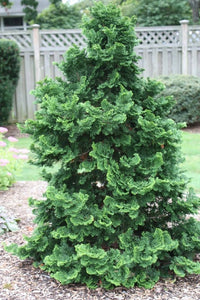 Hinoki cypress 'chamaecyparis obtusa'
The tree grows at a moderate pace, adding 6 or 8 inches a year. In ten years it will be 6 to 8 feet tall, and it will gradually grow to a mature height of between 15 and 25 feet, depending on the location, climate, and soil conditions.
Pricing & Availability
All items are subject to availability.  You may contact us via email - mulchpit1@gmail.com, or call us at 615-754-7076 to check our current availability.  We strive to keep our website prices accurate, but prices are subject to change.