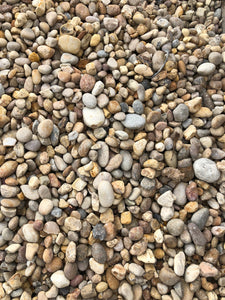 Alabama sunset is a multi-colored, quartzite gravel.  We get it straight from Alabama!  This gravel is naturally smooth and rounded.  It is made up from colors in the sunset, pinks, oranges, blues, greys, and browns.  This gravel appears polished and shiny when wet, which makes it nice around pools, or near fountains.
PLEASE NOTE: This is a specialty stone, and is sold differently than our other bulk goods.
Each large scoop will cover a 7' x 7' area 2 1/2 inches deep.