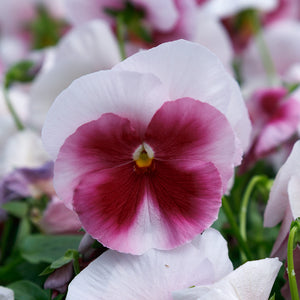 Representing the new wave in violas—ColorMax is a giant-flowered viola that is heat tolerant and fills pots easily, even under heat stress where standard violas suffer. ColorMax is a superb autumn performer and a great choice to start the season. This alternative to pansies comes in a number of eye-catching and unique colors that are extremely versatile—perfect for pots, packs, baskets and mixed containers.
Pricing & Availability
All items are subject to availability.  You may contact us via email - mulchpit1@gmail.com, or call us at 615-754-7076 to check our current availability.  We strive to keep our website prices accurate, but prices are subject to change.