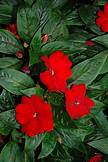 Petticoat New Guinea Impatiens have bold colored blooms of over dark green foliage. This series has a medium growth rate that tends to be very uniform across all colors. Petticoat's compact, mounding plants, are covered with blossoms from late spring to early fall.
Pricing & Availability
All items are subject to availability.  You may contact us via email - mulchpit1@gmail.com, or call us at 615-754-7076 to check our current availability.  We strive to keep our website prices accurate, but prices are subject to change.