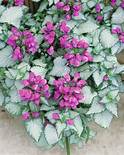 Lamium 'Beacon Silver' is a semi-evergreen (evergreen in mild winter climates) perennial groundcover offering late spring to fall interest, with sporadic flowering continuing into fall. Long blooming, the plant sets attractive whorls of small, hooded, lavender flowers at stem ends. The flowers attract bees.
Pricing & Availability
All items are subject to availability.  You may contact us via email - mulchpit1@gmail.com, or call us at 615-754-7076 to check our current availability.  We strive to keep our website prices accurate, but prices are subject to change.