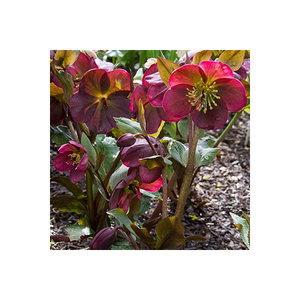 Blooming from late winter to early spring, the rich burgundy flowers of Helleborus Frostkiss Anna's Red linger 2 months or more. With flower clusters set against strong leathery evergreen leaves marbled in cream, it is a standout Only a stellar Lenten Rose could pay tribute to plantswoman extraordinaire Anna Pavord
Pricing & Availability
All items are subject to availability.  You may contact us via email - mulchpit1@gmail.com, or call us at 615-754-7076 to check our current availability.  We strive to keep our website prices accurate, but prices are subject to change.