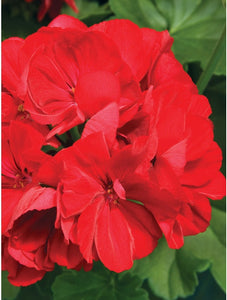 Outstanding performer and super beauty, 'Calliope™ Dark Red' produces great big blooms all summer long. Geranium newbie? Start right here. Versatile, mounding 12-14" plants with semi-double, dark-red, velvet blooms, bright-green ivy foliage, and trailing habit, infuse window boxes, hanging baskets and flower pots with outsize floral pizzazz. Deadheading insures a steady stream of luscious blooms from late spring into autumn. Resilient variety quickly rebounds from summer downpours. Happily immune to heat, humidity and drought, breakthrough plant is a cross between a zonal geranium and an ivy geranium, representing the best features of both.
Pricing & Availability
All items are subject to availability.  You may contact us via email - mulchpit1@gmail.com, or call us at 615-754-7076 to check our current availability.  We strive to keep our website prices accurate, but prices are subject to change.