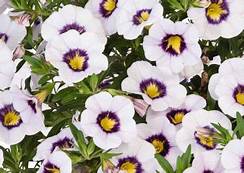 Like a tiny petunia on steroids, calibrachoa (also called million bells) grows and flowers at an amazing rate. Often confused for a petunia, million bells makes a splash no matter where you put it in the garden. It is perfect for containers or hanging baskets but also can be tucked into the front of a border where it will spill out onto sidewalk or patio. In fact, it may be the ultimate "spiller" for container gardens as long as you give it ample water and fertilizer, which it needs to fuel its astounding growth.
Pricing & Availability 
All items are subject to availability.  You may contact us via email - mulchpit1@gmail.com, or call us at 615-754-7076 to check our current availability.  We strive to keep our website prices accurate, but prices are subject to change.