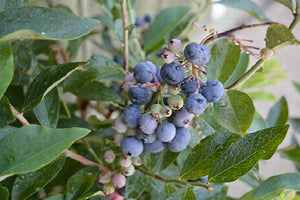 Very sweet and juicy. Boysenberries makes the best pies and jellies! Very few seeds. Has more flavor than standard blackberries. Allow the Boysenberry canes to grow to a height of 18-30″ the first year and then prune a few inches to form a stocky, upright bush which will hold a crop without trellising. Boysenberries are very productive. Rich, luscious, wine colored berries. Flavor is a taste of loganberry, raspberry and blackberry. With no thorns, they're easy to pick, and can be trained to trellis or fence. Require winter protection where temperatures go below 5°.
Care and cultivation should be thorough and frequent, not only the first year but after plants come into bearing, especially when the berries are growing and ripening. Moderate moisture is required and with proper care your plants will produce plentiful harvests for over two months.
Pricing & Availability
All items are subject to availability.  You may contact us via email - mulchpit1@gmail.com, or call us at 615-754-7076 to check our current availability.  We strive to keep our website prices accurate, but prices are subject to change.